Everyone has heard about the potential benefits of consuming cannabinoids for things like pain management, PTSD, anxiety, and depression. For the past four years BioSmart has been leading the way beyond full spectrum oils to legitimizing the even greater results that can be achieved with its highly concentrated, patentable CBD isolate formulas.
Understanding the Limitations
Due to the cost and ease of manufacture, many CBD products on the market are full spectrum. Full Spectrum oils are typically marginally effective because of the relatively small amounts of CBD in the formula. Ninety percent of CBD producers must dilute their full-spectrum oils 8-12 times to meet the 0.3% THC threshold for legal CBD sales in the United States. First the oil is diluted and then it's sold using a lot of marketing excitement, but due to the low CBD dosage, it only works well in a few cases.
In addition, despite the fore mentioned marketing hype, there is no scientific evidence that supports the idea that combining 100's of different cannabinoids in a full spectrum oil, called the "entourage" effect, will produce the best combination of cannabinoids for treating any specific condition.
Each of the more than 100 cannabinoids in hemp effects the body differently. For example, a full spectrum oil will contain cannabinoids that both relieve anxiety and stimulate cerebral activity. Many of the cannabinoids found in full spectrum oils have had little formal research at this time on their effect on the human body. Managing the interaction of that many unproven active ingredients to create the best outcome for a specific condition is an extreme challenge at best.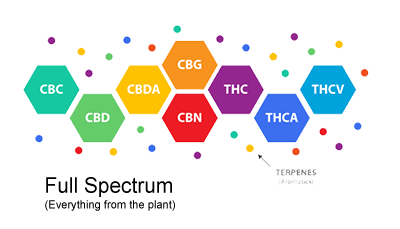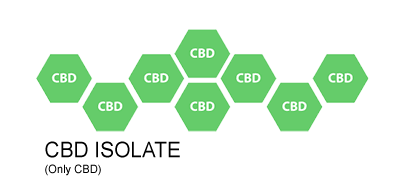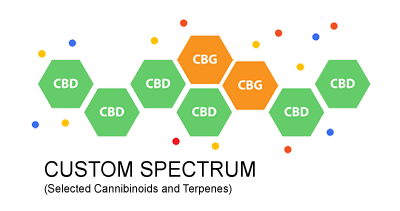 High Performance Liquid Cromatography
BioSmart's research and extraction technology allows us to isolate the individual cannabinoids (CBD, CBN, etc.), eliminate the THC completely, along with other unwanted compounds, and then concentrate the formulation making our products 10-15 times more concentrated than full-spectrum products.
Our process utilizes high-pressure liquid chromatography using only organic food-grade ethanol in the process. Unlike other extraction methods, High-Pressure Liquid Chromatography preserves all of the constituents in the plant thus enabling us to capture, re-combine and concentrate the groups of cannabinoids that are most appropriate for treating specific conditions into a custom spectrum formulation.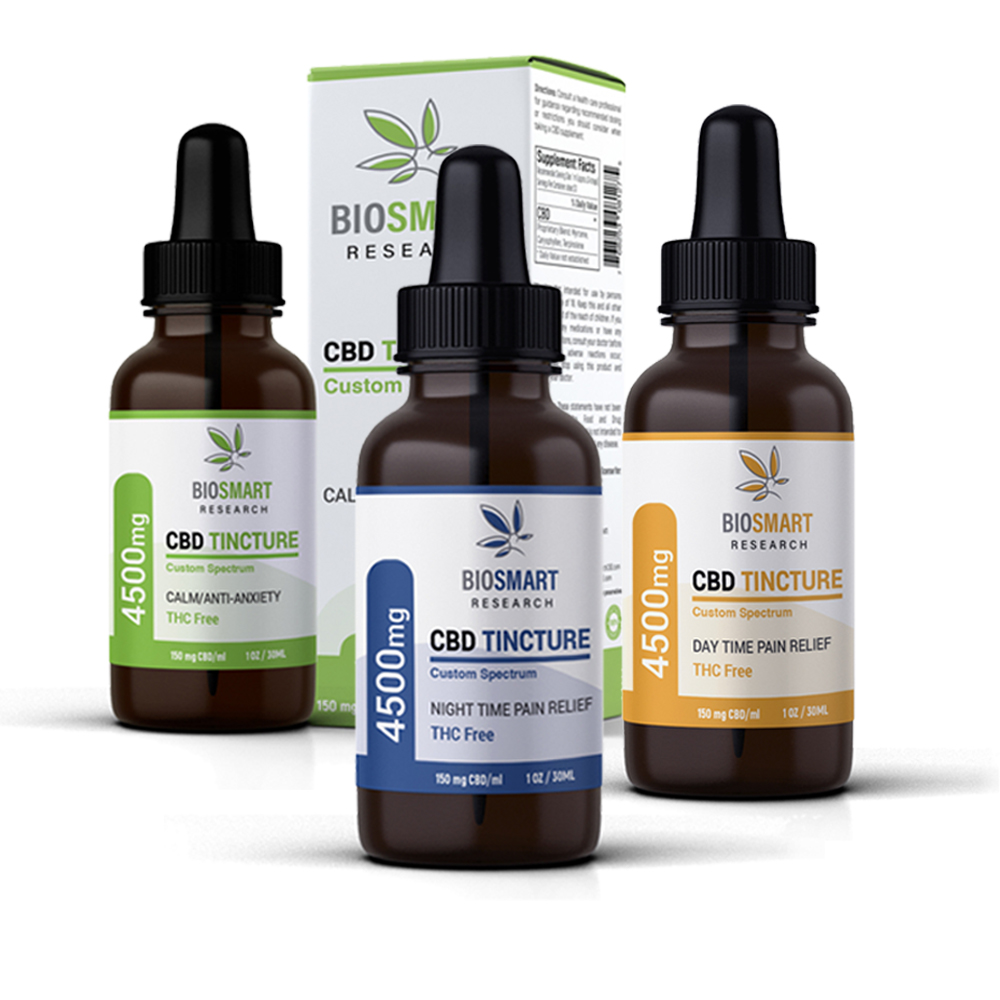 Effective, Consistent and Concentrated
Biosmart's technology provides consistent, reproducible formulations with exact ingredients, regardless of the plant's original cannabinoid content. Every plant and every field of Hemp has a different cannabinoid profile so this can't be accomplished using conventional extraction processes used to produce full-spectrum CBD oil or CBD products. Accordingly, every batch of full spectrum product will have a unique cannabinoid and terpene profile based on the concentrations present in the hemp used to produce it, making consistent, ongoing results difficult to attain.
Biosmart's isolate formulas are superior to anything currently on the market. BioSmart has 5 patentable formulas currently under production for pain management, anxiety, and skin care. Our skin care line includes topical analgesics that are extremely effective, and facial products which contain CBD isolates and a host of superb botanicals in a proprietary base.
Biosmart Research developed it unique extraction process using organic components and pharmaceutical grade processes (HLPC) rather than using toxic chemicals or high-pressure CO2 like other common industry practices. This technology was developed over the course of three years of research and by establishing a strategic relationship with CXTH, a premier manufacturer and second largest High-Performance Liquid Chromatography (HPLC) equipment manufacturer in the world. CXTH has now integrated its HPLC manufacturing with BioSmart's proprietary technology and IP.
If you think about it, if you could buy a CBD product that contained 10 times more of the active ingredients for the same price, which one would you buy. In addition, BioSmart's custom spectrum formulations provide consistent, reproducible formulations that enable us to re-combine and concentrate groups of cannabinoids that are most appropriate for treating specific conditions.
BioSmart is focused on improving the quality of life and health of our customers. We stand behind each product and guaranty you'll see results or your money back. No questions asked.